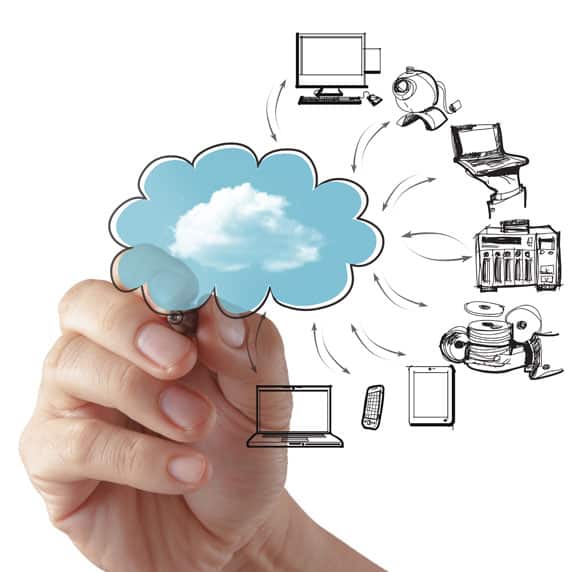 Looking to move to the Cloud?  CNS can help.
CNS' Cloud Hosting Services revolutionize the way your business operates by allowing instant, secure, compliant access to your hosted IT infrastructure from anywhere. All your applications and data are accessible to you from any PC, Mac, or mobile device, online or offline, via a secure connection. Cloud hosting and hosted desktops improve how your business operates and saves money, while also removing the unneeded technological complexities.
Cloud Services are IT services that get delivered to your organization through the internet. Cloud services can replace traditional servers and IT services that your organization uses for its daily business processes. Cloud Services are more flexible and affordable than traditional IT services and will grow with your organization as it matures.
With more than twenty-five years of experience supporting organizations like yours, CNS understands how critical it is that IT systems are available at all times. We also know how costly IT hardware and services can be. That's why we have invested in developing Cloud Services, which are affordable and scalable.
For immediate support with a technical issue or inquire about new services, please contact us at (916) 366-6566.
Telephone Support
916-366-6566
Office Hours
CNS's Regular Business Hours are Monday to Friday, 7 a.m. to 5 p.m.
We are closed on all major US holidays. Emergency after-hours support is available by calling our support line.
Email Support
If you have a support request, please email us at help@cns-service.com
Please note that this mailbox is only for support requests and only gets monitored during regular business hours.
Remote Assistance
If you are an existing client, please submit your support requests through our Client Login Portal. If this is an emergency that cannot wait until the next business day, we do offer after-hours support for existing clients. Many after-hours needs are simple or can be worked around until the next business day. If there is a situation regarding your network that is an emergency and cannot wait until the following business day, Capital Network Solutions, Inc. is here for you.
Need immediate network or server support?
Please call 916-366-6566 or fill out a Help Desk ticket.
In addition, we have strategically partnered with the industry's top vendors for computer networking and network security. Through our strategic alliances we can leverage vast amounts of knowledge, enabling us to quickly get to the root of all your network and server support needs.