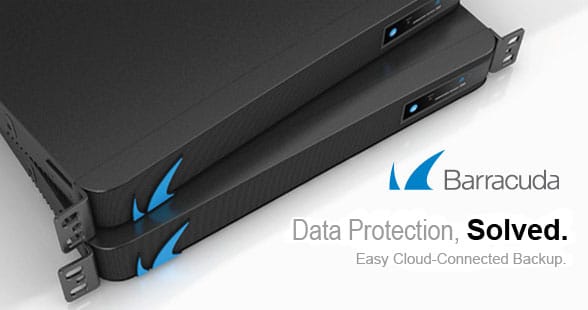 A powerful, complete Data Backup Services Solution for a flat monthly fee.
Our fully managed Barracuda Backup Services offer your business a complete and affordable data backup solution. The Barracuda Backup Server provides a full local data backup and then replicates the data securely off-site.
Simple pricing with no per-application or per server fees
Local appliance for fast recovery times
Unlimited Cloud Storage
Fully Managed by our 24/7 support team
We Manage Your Technology So You Can Focus On Your Business

IT Support Tailored Specifically for Small to Medium Sized Businesses
Models
Model 290
Model 390
Model 490
All Models Include:

Configuration
Restores
Weekly Reporting
Monitoring of local daily backups and offsite replication

$379

$529

$829

Setup Fees
Remote/$249 – On-site/$499
Remote/$249 – On-site/$499
Remote/$249 – On-site/$499
Suggested Backup Volume
500 GB
1 TB
2 TB
Usable Storage Capacity
1 TB
2 TB
4 TB
Form Factor
1U Rackmount Chassis
1U Rackmount Chassis
1U Rackmount Chassis
Dimensions (WxDxH; in)
16.8 x 1.7 x 10.2
16.8 x 1.7 x 14
16.8 x 1.7 x 19.8
Weight (lbs)
9.0
12.0
26.0
Copper Ethernet NICs
1x Gigabit Ethernet
1x Gigabit Ethernet
1x Gigabit Ethernet
Copper Ethernet NICs
0.3 Amps AC
0.9 Amps AC
0.9 Amps AC
Inline Data Deduplication
Yes
Yes
Yes
Integrated Cloud Replication
Yes
Yes
Yes
Site-to-Site Replication
Yes
Yes
Yes
LiveBoot and Cloud LiveBoot
Yes
Yes
Yes
Granular File and Message Recovery
Yes
Yes
Yes
Unified Cloud Management Interface
Yes
Yes
Yes
No Per-Server or Per-Application Fees
Yes
Yes
Yes
Available as Backup-as-a-Service
Yes
Yes
No
Local Management Interface for Private
Yes
Yes
Yes
Redundant Disk Array (RAID)
No
2 x 2 TB Redundant RAID
4 x 2 TB Redundant RAID
* For larger environments we also offer models 690,890, 990, 995 and 1090. Contact us for details and pricing – (916) 366-6566

Need immediate network or server support?
Please call 916-366-6566 or fill out a Help Desk ticket.
The modern workforce has changed the way IT administrators need to think about data protection. Beyond protection, Barracuda bridges today's evolving demands by leveraging the latest innovations across our Storage solutions. You can easily secure your most crucial business data and applications while meeting users' needs for information access at all times and across all their devices.
Barracuda's all-in-one cloud-connected backup solution is designed to simplify IT, and help your business maintain productivity, no matter what happens.