Laptop Mag article: http://www.laptopmag.com/articles/laptop-brand-ratings
According to Laptop Mag, a third-party tech publication, Lenovo has a well-deserved reputation for building great laptops at reasonable prices. This year, the company leaped into our top spot by not only making excellent and innovative products, but also backing them with quick and helpful support. Thanks to these machines' excellent keyboards, long battery life or eye-catching designs, 19 out of the 33 Lenovo laptops that Laptop Mag reviewed received ratings of 4 stars or higher.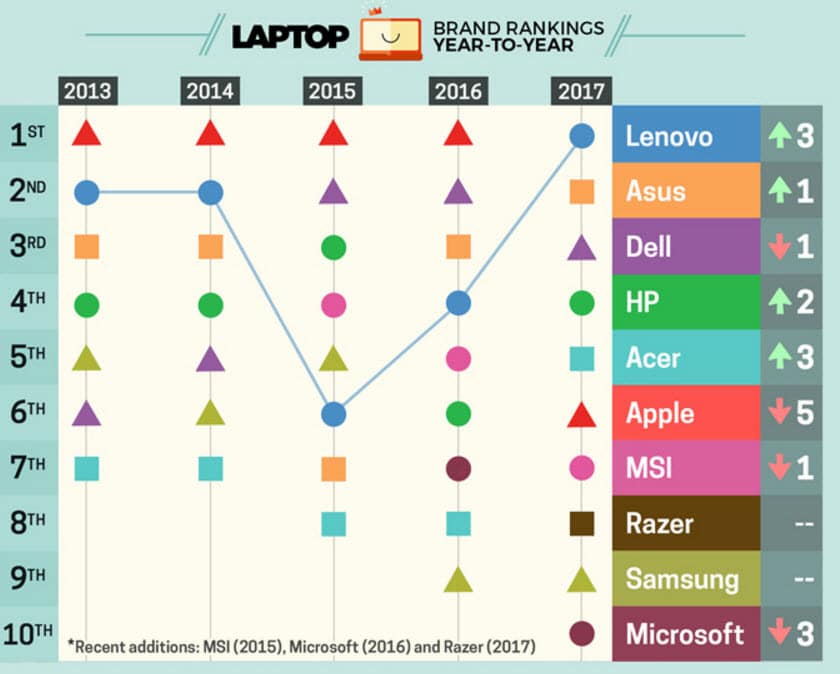 When you're shopping for a laptop, the brand matters as much as the specs and features.
That's why, each year, we [Laptop Mag] evaluate the top notebook manufacturers and publish our Best and Worst Laptop Brands rankings. To pick the winners, losers and also-rans, [Laptop Mag] evaluated the 10 biggest laptop brands to determine which offer the best combination of quality products, cutting-edge innovation, helpful support, sleek designs and strong value. For 2017, Lenovo has knocked Apple out of its long-held top position. Asus and Dell take second and third place.
Lenovo's Key Strengths
ThinkPads: They are the undisputed champions of productivity, thanks to their best-in-class keyboards, accurate pointing sticks and long battery life.
Yogas: Best series of bendback 2-in-1s.
Pushing the envelope: From totally flat keyboards that double as writing pads to OLED screens, Lenovo takes risks.
Lenovo's Main Weaknesses
No high-end gaming: Lenovo's gaming laptops are nice, but don't get anything more powerful than a midrange, GTX 1060 card.
Mixed feelings on detachables: The company's Miix series of detachable 2-in-1s fails to impress.
Top-Rated Lenovo Laptops
ThinkPad T460: 17+ hours of battery life
ThinkPad X1 Carbon: 2.7 pounds, 12 hours of battery life
Yoga 910: Tiny bezel, low weight and attractive chassis
Read the full 2017 Lenovo Report Card at: http://www.laptopmag.com/articles/lenovo-brand-rating.
If you need help implementing new technology at your business, contact Capital Network Solutions at (916) 366-6566.