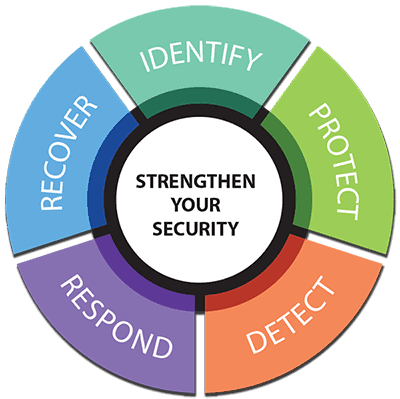 KEEPING SACRAMENTO BUSINESSES SECURE
We offer enterprise grade security that small businesses can afford.
Ironclad Information Security Solutions
At Capital Network Solutions (CNS), we go beyond basic security measures like software updates and antivirus protection. By following the cyber security framework outlined by the National Institute of Standards and Technology (NIST), we offer enterprise-grade security that small businesses can afford.
Cyber Security Risk Assessment
Vulnerability Scan
Some of the most significant cyber threats exist within your system, not outside. A vulnerability scan will identify security flaws within your online environment.
With new data compliance challenges and increasing threats from hackers, your business needs next-level protection. Our NIST security solutions keep the hackers out and keep your critical data safe.
Multi‐Factor Authentication
Thwart the most common types of cyberattacks by adding an extra layer of sign-in authentication. Cybercriminals steal passwords all the time, but multi-factor authentication still keeps them out.
READ MORE: Small Business Cybersecurity Primer
Security Awareness Training
The most prominent security risk to American businesses is not cyberattacks, but rather employee negligence. With BullPhish security awareness training, we turn your untrained employees into human firewalls.
READ MORE: Does My Business Need Security Awareness Training?
Data Backup Protection
A managed data backup service offers a hands-off, cost-effective, foolproof way to protect and recover company data. Our Barracuda Cloud solutions safeguard your data from cybercriminals and natural disasters alike.
READ MORE: Data Backup for Small Businesses
Thanks to our cutting-edge security solutions, CNS is always on guard. We detect problems before they arise and maintain logs to provide full transparency.
Firewall
SonicWall Capture Advanced Threat Protection Service gives you effective zero-day threat protection. We discover and stop unknown threats from making unwanted intrusions into your system.
LEARN MORE: SonicWall Capture Datasheet
Advanced Email Protection
Protect your organization against malicious email messages, as well as attachments, links and tools. The industry-leading Office 365 Advanced Threat Protection investigates and prevents email-related threats.
READ MORE: Office 365 Advanced Threat Protection
Threat Protection and Response
We find and investigate cyberattacks both on-premises and in the cloud. With Azure Advanced Threat Protection, your business gets the real-time security previously reserved for large corporations.
LEARN MORE: Microsoft Azure Advanced Threat Protection
Security Information Event Management (SEIM)
Stop cyberattacks before they do any damage. Powered by artificial intelligence, Microsoft Azure Sentinel collects data, investigates threats, and responds to security incidents.
LEARN MORE: Microsoft Azure Sentinel SEIM
In business, you can hope for the best, but you should always prepare for the worst. That's why CNS conducts an annual security audit on your organization. We also craft a security breach response plan should the unthinkable ever occur.
LEARN MORE: Cyber Security Checklist: 5 Ways to Protect Your SMB
A whopping 60% of small businesses victimized by a cyberattack close shop within six months of the attack. Does your organization have a breach recovery plan in place? At CNS, we help breached businesses get back on their feet and back in business.
READ MORE: Cyberattack News Roundup
Security Starts with Microsoft 365
Whatever your industry, Microsoft 365 Business Premium is the best way to protect your business against cyber threats. Accessible anywhere and anytime, Microsoft 365 security solutions integrate across all your users, devices, apps and data.
A Microsoft 365 Business Premium account gives your business:
Device Encryption
Real-Time Email Threat Protection
Email Encryption
Mobile Device and Application Management
Sensitive Information Protection
With Microsoft 365 and Capital Network Solutions, your system always stays secure.
READ MORE: Cyber Security Deployment with Microsoft 365
Read our Customer Case Studies to learn about the ways that Capital Network Solutions supports the growth of Sacramento area businesses.