These days, threats to your business data are as omnipresent as superhero movies.  Supervillain hackers can penetrate standard security measures from the outside, while mild-mannered, untrained end-users can increase your vulnerability from the inside.  Whether you are dealing with new-world menaces like ransomware and malware, legendary threats like disaster and theft or even a rogue employee, an invincible backup solution is the only way to guarantee business continuity in the event of data theft or corruption.
At Capital Network Solutions, we have three decades of experience providing superpowered data backup and recovery services to Sacramento area businesses.  We understand the important role that ironclad data protection plays in safeguarding your business from liability and compliance-related issues.  Therefore, as part of our Managed IT services plan, we require the installation of a Barracuda Backup appliance within your on-premises server.
If you operate an on-premises server, a data backup device provides you with a full local backup.  That backup also gets replicated and stored securely offsite at a Barracuda data center.  This allows for a quick and easy restoration of your company's lost or damaged data, ensuring a near-seamless level of business continuity.
How does a data backup device subscription work?
When you sign up for a Managed IT plan at Capital Network Solutions, one of our Barracuda-certified backup experts will come to your building to install a Barracuda appliance to protect the data on your local server.  The appliance holds a local copy of your data, while also backing it up to the Barracuda cloud.  Our 24/7 support team monitors daily backups for any errors or omissions, and they also handle the restorations of files, folders, drives, servers, virtual machines and hosts.
Our backup subscription service includes:
Configuration
Restorations
Monitoring of Local Backups
Monitoring of Offsite Replication
How much data can a Barracuda Backup device handle?
As one of the leaders in the field of data protection, Barracuda offers devices ranging from a compact six-pound box with a storage capacity of 1 TB to enormous appliances that hold up to 112 TB of data and weigh over 100 pounds.  With so many options available, it becomes crucial to tailor your backup device to the needs of your business.  Our backup experts work with you to find the ideal appliance for your business, giving you enough space to hold all your current data while also allowing room for growth.
How do we size your data protection needs?
The important thing is not how much space you have available, but how much space you will end up using on the device.  Counting data compression, deduplication and the creation of Hypervisor and Agent-based backups across multiple servers, you are going to end up consuming 1.5 to 2 times the server's used drive space.  The potential for future growth also needs to be factored into the equation.
We specialize in protecting small to medium-sized businesses, and most of our customers require 2 to 6 TB of backup space.  However, we also understand that the data protection needs of every business are different, so we offer a variety of monthly backup plans.  Details on all the Barracuda Backup appliance models are available at https://www.barracuda.com/products/backup/models.
Listed below is the usable storage capacity for each Barracuda hardware appliance we lease, as well as the monthly fee.  If your server uses about 1.5 TB of data, then you will need about 2.25 to 3.00 TB of space.  In that scenario, we would recommend using the Barracuda Server Backup Appliance model 390, which offers 4 TB of total space.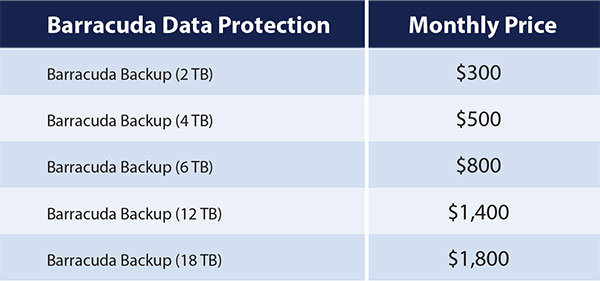 Data Recovery Options
With the installation of a Barracuda device, there is a wide range of restore options for physical servers, not to mention virtual machines and Windows Agents.
Physical Servers: In the case of a major hardware failure, we can perform a bare-metal restore, resetting the server to its last backup point.
Windows Agent Backup: If you need something more granular, the agent-based backup is used to recover individual files and folders, instead of resetting the entire server.
Virtual Machines: We can rapidly restore one or more virtual machines using a full image restore, During the restore process, Barracuda LiveBoot offers temporary production storage and Cloud LiveBoot provides temporary remote access to your data.
On-premise Instant Recovery: If both the on-premise server and the Barracuda backup device are damaged or stolen, we include the Barracuda Instant Replacement option. Barracuda will preload your most recent data and configuration settings onto the replacement unit and ship it to you overnight.
What about backup schedules and data retention?
We will work with you to develop a backup schedule that fits the demands of your business, although we ensure one full data backup per day.  When a full backup is not achieved within a 24-hour period, our certified help desk technicians receive an alert, at which point they determine root cause, re-mediate the problem and kick off another backup.  If your needs change, we can modify the backup schedule or upgrade the appliance at any time.
Our default data retention policy can also be customized to suit your business needs:
Keep All Revisions: 1 day
Keep Daily Revisions: 3 days
Weekly Revisions: 2 weeks
Monthly Revisions: 12 months
Yearly Revisions: 7 years
Keep Removed Email Messages: forever
How can your business achieve superpowered data backup protection?
No need to fire up the Bat-Signal, just call Capital Network Solutions, Inc. at (916) 366-6566 to set up a free consultation.