The Company
Established in 1977, JTS Engineering Consultants provides engineering, planning and surveying for public works and private industries.  When you consider the remarkable changes that have come to Sacramento in recent years, some of the credit should go to JTS Engineering.  It's all part of the Midtown Sacramento-based company's "continuous pursuit of quality."
Over the last forty-plus years, JTS completed roughly 5,000 projects of various size, mostly in the Sacramento area.  JTS handled numerous projects for UC Davis Medical Center, the City of Sacramento, the City of Folsom and Intel.  The company also did work on Sacramento City Hall, Memorial Auditorium and the Community Center Theatre.
The Situation
Khalid Siddiqui started working for JTS Engineering in 1979.  From the start, Siddiqui he did a little bit of everything for the growing business.  "I've always been working a little bit in accounting and computers," he says.  "Writing a few accounting applications, helping with computers, PCs, installation of the software."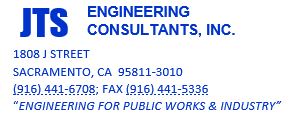 As the Network Administrator for JTS Engineering Consultants, Siddiqui oversees nearly 20 end-users, including engineers, drafters, designers and administrative support.  "You have challenges come up, you just try to work through them and try to find a solution," he says.  "If I'm not able to resolve an issue, I get assistance from CNS."
Before JTS Engineering started working with Sacramento managed service provider Capital Network Solutions, Siddiqui handled every IT issue himself.  As the company kept growing and Siddiqui's duties expanded, it became too much for one person to handle.  "I was doing everything," Siddiqui says.  "It was getting to be more time-consuming."
The Support
With Capital Network Solutions, Siddiqui gained an offsite IT support team with a detailed understanding of the JTS network infrastructure and business needs.  At the same time, whenever Siddiqui and JTS require onsite support, a CNS technician comes to their Midtown Sacramento office.
"They always respond to you in a timely manner," he says.  "My experience has been very positive over the years."
Siddiqui was part of the group that chose CNS to become the managed service provider for JTS Engineering.  "I talked to [CNS Vice President of Sales] John Guarienti," he says.  "I felt very comfortable working with him."
That level of comfort and trust became crucial when CNS partnered with JTS on a major technology project.  The challenge: migrate the entire company to Office 365 without disrupting the day-to-day business."
The Process
When CNS works with a client on an email migration project like this, we prevent disruption through preparation, communication and collaboration.  That carries through from the start, when we work with you to develop a schedule, to our onsite availability post-project.  With CNS, you never get left in the lurch.
"We laid out the list of users, we talked about it, scheduled when we were going to do it," Siddiqui says.  "We chose to do it on the weekend for the least disruption of service."
After the end of the business day on Friday, users got migrated from the JTS in-house Exchange to Office 365.  On Monday morning, JTS employees had their mailboxes converted, and everyone was able to access their email.  "One of your staff was here to get any issues resolved onsite," Siddiqui says.  "That helps out."
The Result
Post-migration, everything is humming smoothly with JTS and Office 365.  "It's been good that we migrated over," Siddiqui says.  "We had a few challenges, but we were able to work through those issues and got it all working."
With CNS as their Sacramento managed service provider, JTS Engineering gets many layers of coverage. Besides the dependable IT support that he gets from the CNS help desk technicians, Siddiqui can reach out to upper management anytime he wants.  Meanwhile, he can bounce big-picture ideas off the CNS executives or discuss plans for future projects with our virtual CIO.
"They're always available to assist and work with us off-hours and whatever needs to happen," he says.  "We've been with them for 13 years, and it's been a good experience."